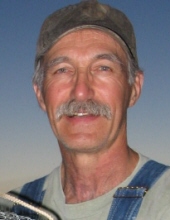 Obituary for Nicholas Joseph Jagunich Jr.
Mass of Christian Burial will be held at 11:00 a.m., Thursday, January 25, 2018 at Resurrection Catholic Church, Eveleth. Celebrant will be Fr. Michael Garry. Visitation will be from 6:00 p.m. – 8:00 p.m., Wednesday, January 24, 2018, with a 7:00 p.m. rosary at Cron-Sheehy Funeral Home, Eveleth. Visitation will continue for one hour before the Mass Thursday at the church. Inurnment in Eveleth Cemetery will be at a later date. In lieu of flowers, memorials may be directed to Eveleth Community Foundation, P.O. Box 231, Eveleth, MN 55734 or North St. Louis County Habitat for Humanity, 5558 Enterprise Drive East, Virginia, MN 55792.

Nicholas Joseph Jagunich Jr, age 65, died peacefully on January 16, 2018 at his home in rural Eveleth. He was born in Eveleth on May 21, 1952 to Nicholas and Anne (Sopp) Jagunich Sr. He attended Eveleth schools, and technical college in Mankato and Eveleth. Nick served in the Navy on Midway Island during the Vietnam War. He was an instrumentation/electrical worker at LTV and Minntac and often ribbed about being a 'hobby miner' who shunned overtime and used his free hours to pursue his true passions. Those included caring for his two draft horses that helped him skid firewood, and many of the northwoods activities available here. He never tired of gardening, fishing, hunting and putting up the bounty obtained from these efforts. He was an excellent carpenter and very clever all-around fashioner of creations like his geodesic dome and the wild rice processing plant he and a partner built.

Nick was a humble man who exuded a gentle joy in life. He was always a Good Samaritan when he saw someone in need, and was an especially attentive and patient listener to whoever he might be with.

He was adored and admired by his wife Anne and a highly treasured father, son, brother, uncle, cousin, and friend to many.

He is survived by his wife, Anne; son, Adam (Christina) of Duluth and their daughter, Elizabeth; his mother, Anne; sisters, Therese Larson, Katherine (Ján) Horak, Annette (Thomas) Klander, Shari (Paul) Muhich; Anne's extended families and numerous relatives.

He was preceded in death by his father, Nicholas Sr.; brothers, Paul and Anthony; brothers-in-law, Edward Weir, Matthew Weir Jr., Jonathan Weir and Scott Larson.
Previous Events
Mass of Christian Burial
Resurrection Catholic Church
301 Adams Avenue
Eveleth, MN
Visitation 6:00 p.m. - 8:00 p.m., Wednesday at Cron-Sheehy Funeral Home. Rosary at 7:00 p.m. Visitation will continue on Thursday from 10:00 a.m. until the time of Mass.
Cemetery Details
Location
Eveleth Cemetery
Park Ave/County Road 142 near Hat Trick Ave.
Eveleth, MN