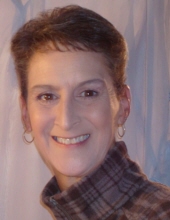 Obituary for Patricia Ann Coldagelli
Visitation for family and friends will begin at 3:00 p.m., Saturday, September 23, 2017 at Cron-Sheehy Funeral Home, Eveleth with a prayer service at 4:00 p.m. Following the service, please join the family at The Downtown Bar in Gilbert to celebrate Tricia and the goodness she embodied.

Patricia Ann Coldagelli was born on July 8, 1960 and passed away unexpectedly on Monday, September 18, 2017.

Tricia graduated from Eveleth High School and the Eveleth Technical School. She worked at the Mesabi Daily News, the Eveleth schools, Fast, Inc. and most recently, The Downtown Bar in Gilbert.

Trish was a true caregiver, ALWAYS putting others' needs before her own. She was dedicated to her parents through their illnesses, quick to lend a helping hand to her siblings and their spouses, exceptionally involved with her nieces and nephews, including the 4-legged ones and completely devoted to many friends old and new.

She enjoyed fishing and was quick to learn its nuances. She mastered the palomer knot, baited her own hook and had the knack for reeling them in.

The family shack was one of her favorite places to be. She enjoyed 4-wheeling, playing cards and never shied away from work that needed to be done.

In the kitchen, Trish followed in her parents' footsteps. Whether her own kitchen or someone else's, she was accomplished, a stickler for perfection and most importantly…The Boss.

For those who knew Tricia best, the only thing bigger than her mouth was her heart.

She is survived by her siblings; Gordy (Peggy) Coldagelli, Rick (Tracy) Coldagelli, Tina (Dick) Deloria, Peter (Michele) Coldagelli, Paul (Heidi) Coldagelli and Mary (Bob) Johnson; nieces and nephews, Phil (Nikki), Kyle, Michael (Beth), Reese (Jen), Kelsey (Steve), Shawn (Mel), Peter, Rikki (Erik), Sara, Nathan, Lily and Reno; great-nephew and nieces; Kyle Jr., Gianna and Carter Marie.

She was preceded in death by her parents; Earla and Reno, Doc. Martinson and her beloved dog, Taz.
Previous Events
Prayer Service
Cron-Sheehy Funeral Home
502 Adams Avenue
Eveleth, Minnesota 55734
Visitation for family and friends will begin at 3:00 p.m.