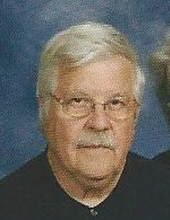 Obituary for William "Bill" Neil Laituri
Funeral service will be held at 1:30 p.m., Friday, June 30, 2017 at United in Christ Lutheran Church, Eveleth. Pastor John Dietz will officiate. Visitation will begin at noon at the church. Burial in Eveleth Cemetery following the service and luncheon. The family will also greet mourners at the Eveleth Elks at 4:30 p.m. In lieu of flowers, memorials are preferred.

William (Bill) Neil Laituri, age 68 of Eveleth, was born September 3, 1948 in Virginia, MN and died on June 21, 2017 in Pembroke Pines, FL of cardiac arrest. He was the son of Neil Laituri and Maxine Ketola Laituri of Virginia, MN. He married his wife of 46 years, Sharon Carlson of Goodland, MN on September 12, 1970 in Goodland. An Iron Ranger most of his life, he graduated from Roosevelt High School Class of 1966 in Virginia, MN. He received a Certificate in Computers from Honeywell and then worked at Lutheran Brotherhood in Minneapolis, maintaining their large computers. In 1976, he moved back to the range, settling in Eveleth and worked for US Steel who sent him to the Eveleth Technical College for training to become a Millwright, a job he held until his retirement.

Bill loved curling, genealogy, cooking, road trips, helping people, and volunteering, especially at the local food shelf. Most of all, he loved his sons' families and made sure he participated in all of their events, no matter how far they lived. He kept up with his nephew's adventures, as well. He had a wonderful sense of humor and gift of gab that he bestowed upon friends and family alike. He was particularly proud of his 100% Finnish heritage and made sure he taught his grandchildren all things Finnish. Bill was a member of United in Christ Lutheran Church, Eveleth; Knights of the Kalevala, Virginia; Eveleth Elks Lodge #1161.

He is survived by his wife, Sharon; sons Ronald (Annie) of Bemidji, MN. and Thomas (Dr. Carrie) of Ft. Lauderdale, FL; grandchildren Lucia, Eva and Gino of Bemidji, MN and Aiden of Ft. Lauderdale, FL; sister, Joan (Chuck) Newman of Stillwater, MN; nephew Aaron Mowrey of Beijing, China and Stillwater, MN; many cousins and friends.

Bill was preceded in death by his parents.
Previous Events
Funeral Service
United in Christ Lutheran Church
201 Station 44 Road
Eveleth, MN
Visitation will begin at noon at the church
Cemetery Details
Location
Eveleth Cemetery
Park Ave/County Road 142 near Hat Trick Ave.
Eveleth, MN