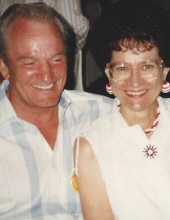 Obituary for LeRoy and Annie Kangas
After lengthy illnesses and long good-byes, the children of LeRoy "Sulo" and Annie Kangas invite you to celebrate their lives by joining them for an open house and luncheon from 11:00 a.m. – 2:00 p.m., on Thursday, June 29, 2017 at Cron-Sheehy Funeral Home in Eveleth.

Annie died Thursday, July 2, 2015 at Edgewood Vista in Virginia at the age of 81. She was born in Eveleth to Samuel and Mary (Pavkovich) Yelach. Sulo, 85, died Friday, June 16, 2017 at Meadows on Fairview in Wyoming, MN. He was born in Eveleth to George and Ailie (Eskola) Kangas.

Sulo and Annie were united in marriage on August 11, 1956. Annie was a proud homemaker – she enjoyed sewing, dancing, concerts, and was a baking wizard. Sulo worked for the Duluth Winnipeg Pacific Railroad and was an avid fast-pitch softball player, bowler, pool shark, gardener and puzzle fanatic.

They are survived by their children, Cheryl (Dan) Kucharyski, Bill (Julie) Kangas, Laura (Michael) Brock; grandchildren, Brett and Ryan Kangas, Jaime (TJ) Elder, Heather (Joel) Folkestad, Joe (Stefanie) Brock; great-grandchildren, Jack and Nate Elder, Ashley Folkestad and soon-to arrive great granddaughters Brock and Folkestad.

Annie is also survived by sisters, Sylvia (Roger) Kolstad, Julia Novak, Mildred Winther; brothers, George (Mary) Anich and Joe (Joan) Anich. She was preceded in death by sisters, Mary Yellovich and Rose Yelach.

Sulo is also survived by sister, Arlene Selin and brother, Dale Kangas. He was preceded in death by sister, June Flannigan and brothers, Charles, Gordon and Donald.

The family requests in lieu of flowers or memorials, that donations be made to the Eveleth 4th of July Celebration in memory of Sulo and Annie. 4th of July Committee, P.O. Box 763, Eveleth, MN 55734.