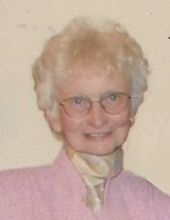 Obituary for Phyllis Carol Thieman
A memorial service will be held at 11:00 a.m., Saturday, May 20, 2017 at Peace United
Methodist Church in Virginia. Officiant will be Pastor Mickey Olson. Visitation will be one hour prior to the service. Inurnment will be at the Eveleth Cemetery.

Phyllis Carol (Ward) Thieman, 88, died in St. Petersburg, FL on Friday, May 5, 2017.
She passed away peacefully following a brief illness while vacationing in Florida with
her family.

She was born on Feb. 25, 1929 in Duluth, Minnesota to Richard and Anna (Johnson)
Ward. Phyllis was a 1947 graduate of Denfeld High School. She attended UMD for a year
before attending St. Luke's School of Nursing, graduating with a diploma in Registered Nursing.
After graduation, she worked as a RN until her marriage to Raymond Edward Thieman
in 1955. They lived in Duluth briefly before moving to Aurora where they made their home
for 14 years. Their final move was to Ely Lake, Eveleth, where she lived for 50 years.

She was a faithful member of the Aurora and Eveleth Methodist Churches and most recently,
Peace United Methodist Church in Virginia. She was a member of the Eveleth Fayal Garden Club
where she eagerly displayed her flowers at the annual flower show.

Phyllis is survived by her daughters; Judy Stanisich, Fern (Dan) Swanson, Lois (Bill) Robillard,
Marjorie Thieman (Chris Hesler); son, Max Thieman; son-in-law, Bruce (Christine) Grierson;
grandchildren; Paul (Janelle)Stanisich, Sam (Tara) Stanisich, Kyle Swanson, Andy Swanson,
Ross Robillard, Nick Robillard and Annie Grierson; great-grandchildren, Sam, Cody, Valerie and Jimmy; sister, Deloris Paulick.

She was preceded in death by her husband, Raymond; sisters Fern and Lois, brother Robert,
her beloved daughter Rita and son-in-law Jim Stanisich.
Previous Events
Memorial Service
Peace United Methodist Church
303 9th Avenue South
Virginia, MN
Visitation will be one hour before the service.
Cemetery Details
Location
Eveleth Cemetery
Park Ave/County Road 142 near Hat Trick Ave.
Eveleth, MN