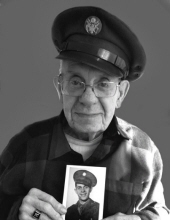 Obituary for William "Bill" Edward Moylan
There will be a memorial service at 1:00 p.m., Saturday, August 18, 2018 at the United in Christ Lutheran Church in Eveleth, MN. Officiant will be Pastor John Dietz. Visitation will begin at 11:30 a.m. at the church. Following services, military honors will be accorded by Mesaba Range Post 1172 Veterans of Foreign War of Eveleth. The family would like to extend a thank you to all of their friends and family for their love and support. In lieu of flowers, memorials are preferred and appreciated.

William "Bill" Edward Moylan, age 92, passed away peacefully on Monday, August 6, 2018 at Essentia Health-Virginia.

Bill was born on June 16, 1926 in a log cabin on a creek in Side Lake, Minnesota to Violet and William L. Moylan. The family moved to Eveleth in 1932 where Bill remained a lifelong resident.

In 1944, Bill enlisted in the Army and in June 1944, he arrived on Okinawa as a private, infantry replacement in the 27th Infantry Division. While on Okinawa, he conducted mop up operations on the north end of the island and trained for the invasion of mainland Japan. At the end of the war, Bill served in the occupation force in Japan with the 353rd Engineer Construction Battalion of the 8th Army. During this time, he assisted in the rebuilding of the runway at Yokota Air Base and remained in Japan until September 1946. Bill has always had a great love for flying and he used his GI Bill to obtain his Pilot's license in 1947, flying out of the Hibbing Airport and Sky Harbor on Ely Lake, Minnesota.

In 1947, Bill started working for the Oliver Iron Mining Division, first as a laborer and then subsequently as a truck driver, driving Mack trucks and working his way up to Euclids. He drove truck in the following mines: Hull Nelson, Fayal, Auburn, Richleou, Sparta, Gilbert, Canto and Stephens. In 1958, he trained and became a millwright and worked at the Extaca Plant and Pilotac Plant. When Minntac opened in 1967, Bill worked in the course crusher, the fines crusher, the concentrator and finally the agglomerator. He remained working in the agglomerator for most of his employment until he retired from United States Steel in 1988.

In 1955, Bill married Betty L. Peterson in Necedah, WI and they had four children – William, Kenneth, Randall and ElizaBeth. Over the course of his life, Bill was involved in many different organizations. He was a member of the American Legion, the Veterans of Foreign Wars, the Moose Club, the Elks Club and was the Eveleth Police Commissioner. Bill had a love of cars and at the age of 17, purchased his first car, which was a 1937 black four door Ford Sedan. Over his lifetime, he had purchased 23 different cars, among of which was a blue GMC truck, called "Big Trouble". Bill loved to watch westerns and war movies as well as read auto biographies.

He is survived by his wife, Betty L. Moylan; sons, William D. Moylan, Kenneth L. Moylan (Shizuko Koizumi), Randall Moylan (Susan Capan) and daughter, ElizaBeth Carver (Franklin Carver). Bill has one grandson, Zachary William Moylan and three granddaughters, Emily and Abigail Carver and Anna Koizumi Moylan.

He was preceded in death by his parents, Violet (Collins) and William L. Moylan and three sisters, Arminta (Bennick), Clarissa (Marinkovich) and Loraine (Rohn).
Previous Events
Memorial Service
United in Christ Lutheran Church
201 Station 44 Road
Eveleth, MN
Visitation will begin at 11:30 a.m. at the church Following services military honors will be conducted by Mesaba Range Post 1172 VFW