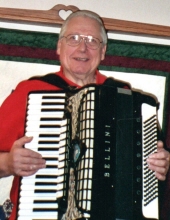 Obituary for Rudolph Anthony Debevec
Rudolph Anthony Debevec

Rudolph Anthony Debevec, age 75, of Eveleth, died Tuesday, Sept.4, at his home at Pleasant Lake at his Pleasant Lake home following an extended illness.
 
A Memorial Mass will be held at 11 a.m., Tuesday, Sept. 1 at Resurrection Catholic Church in Eveleth with Fr. Michael Garry officiating. Visitation will be one hour prior to the service at the church on Tuesday. Inurnment will be at a later date in Fort Snelling Cemetery. Arrangements are entrusted to Cron-Sheehy Funeral Home & Cremation Service in Eveleth.
 
Rudy was born April 5, 1943, in Eveleth to Rudolph F. and Jeanette (Bratulich) Debevec.  Rudy was a 1961 graduate of Eveleth High School and was united in marriage to Mary Dreshar in 1966. He earned an Associate degree from Mesabi State Junior College, an Associate Degree in Applied Science in both sensor systems technology and instructor of technology from the Community College of the Air Force. He received a Trade and Industrial Teacher Certificate from the University of Maryland and a Bachelor of Science in Business and Management from the University of Maryland.  He also completed TAC NCO Academy as a Distinguished Graduate and the Senior NCO Academy. Rudy was a proud 20-year member of the Air Force, where he achieved the rank of Chief Master Sergeant.
 
While in the Air Force, Rudy worked mostly with aircraft electronics and photographic systems. He supervised maintenance of and trained on various avionics, and weapon and camera control systems, on multiple aircraft throughout his career. By the time of his retirement, he was Maintenance Superintendent of the 5th Avionics Maintenance Squadron.
 
After retirement from active duty in 1984, Rudy became a civil servant of the USAF at Minot AFB and worked as Quality Assurance Representative and Assistant Project Officer of the 5th Bomb Wing. While living in Lansford, N.D., Rudy was a Municipal Judge and Vice President of the school board from 1987-1990.
 
Rudy was a member of Resurrection Catholic Church of Eveleth, the Rochester Accordion Club , Cenex Harvest Accordion Club and the American Legion. Rudy enjoyed playing the accordion, entertaining at nursing homes, log cabin construction, woodworking, fishing and gardening.
 
Survivors include his wife Mary; three children, Michael (Kristi) Debevec, Teresa Debevec and Christopher Debevec.; two grandchildren, Lukus and Katlyn Debevec, brothers; Gregg (Barb), Chuck (Nikki); sisters, Patricia (Jim) Dillon, Janet Debevec and Christine Medeiros; and numerous cousins, nieces and nephews.
 
He was preceded in death by his parents, Rudolph and Jeanette, and in-laws, Tony and Helen Dreshar.
Cemetery Details
Location
Fort Snelling National Cemetery
7601 34th Ave S
Minneapolis, MN 55450