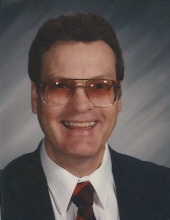 Obituary for James Robert Fischer
Mass of Christian Burial will be held at 11:00 a.m., Monday, July 9, 2018 at Resurrection Catholic Church, Eveleth. Celebrant will be Fr. Eamonn Boland. Visitation will be from 4:00 p.m. – 6:00 p.m., Sunday, July 8, 2018, with recitation of the rosary at 5:00 p.m., in Cron-Sheehy Funeral Home and will continue for one hour before the mass on Monday at the church. Burial will be in Eveleth Cemetery. Memorials may be directed to Lex Fischer, 8738 Iron Junction Road, Iron, MN 55751.

James Robert Fischer, 82, of Iron, died Friday, July 6, 2018, at Essentia Health-Virginia Care Center. He was born on September 23, 1935 in Eveleth to John and Johanna (Starin) Fischer. James attended the Forbes school under his middle name of Robert through grade 5. He then attended the Eveleth public schools from 6th grade through the 12th, graduating in 1953. While attending Eveleth Junior College, James decided to transfer to Ellendale, ND Teacher's College. He began teaching at the age of 19 in Alkabo, ND grades 1-5. He then taught 4th grade in Parkville, MN before teaching in the Eveleth Franklin and Middle School for 35 years. He retired in 1992.

In his younger years, James enjoyed taking trips to many countries, visiting his pen pals, sightseeing, visiting relatives in Slovenia and escorting high school students through Europe 45 days on the People-to-People program.

He later found much satisfaction and contentment in taking care of many unwanted dogs and cats. During his retirement years, he enjoyed being close to nature observing the deer, squirrels, birds and other wild life, as well as nature photography, some gardening and forming groups on the internet.

He is survived by nephews, Lex (Nicole) Fischer, Paul Fischer, Jeff (Tracy) Fischer; nieces, Lora (Tony) Lastovich, Lisa (Deane) Fischer Morrow, Renee Fischer, Diane Fischer and their families.

He was preceded in death by his parents and brothers, John, Peter and Earl.
Previous Events
Mass of Christian Burial
Resurrection Catholic Church
301 Adams Avenue
Eveleth, MN
Visitation 4:00 p.m. - 6:00 p.m., Sunday, July 8, 2018 in Cron-Sheehy Funeral Home. Recitation of the rosary at 5:00 p.m. Visitation will continue one hour before the mass Monday, July 9, 2018 at the church.
Cemetery Details
Location
Eveleth Cemetery
Park Ave/County Road 142 near Hat Trick Ave.
Eveleth, MN