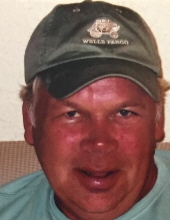 Obituary for James Conrad Thomas
Private family services were held. A celebration of Jim's life for friends is being planned for a later date.

James (Jim) Conrad Thomas, 69, of Eveleth, MN passed away Monday July 30th at his home with family at his side, after a battle with lung cancer.

Jim was one of five children born to James S. and June Elizabeth (Tregenza) Thomas on January 14, 1949 in Virginia, MN

He graduated from the Eveleth Senior High School in 1967. While in school he played hockey and football and excelled at both sports. He then attended Mesabi Community College and continued his education at the University of Minnesota-Duluth and graduated with a Bachelors of Arts Degree in 1971.

Jim married his high school sweetheart Carol Jean Phillips on September 13, 1969 and they made their home in Duluth while Jim finished his education. Then they moved back to Eveleth where Jim worked at the Range Mental Health using his degree. After two years they moved to Wisconsin where Jim started working for FW Woolworth Company as store manager and managed stores in Rhinelander, Eau Claire, Escanaba Michigan and then in Sturgeon Bay Wisconsin.

After deciding to return to Eveleth, Jim started working for Eveleth Taconite. He became very involved in the Eveleth Youth Hockey Program. His passion was spending all the time he could coaching or refereeing hockey at youth level at the Eveleth Hippodrome. Jim dedicated endless hours with his sons watching them play hockey and other sports. He was a loyal Eveleth sports fan and Minnesota Gopher fan.

Jim started working for Johnson Brothers Liquor Company of St. Paul on January 3, 1984 as a sales representative and retired from the company after 31 years. During that time Jim won many awards in sales. One of those awards was "Salesman of the Year" in 1997. He remained to be one of the top sales representatives with the company for many years. Jim loved his job and felt many of his co-workers and customers were his very dearest friends.

Later in his life he started golfing and it grew to become one of his favorite passtimes. He was a member of the Eveleth Men's Golf League and was captain of one of Margie's Roosevelt golf teams for many years. Jim had many memorable golf trips with his team. He also was a member of the Curl Mesabi Senior Curling Club and the Eveleth Elks.

Jim is survived by his wife Carol and three sons; Derek (Shelley) Thomas of Hermantown, Ryan (Llonda) Thomas of Appleton Wisconsin and Kirk (Kristin) Thomas of St. Michael. He was a grandfather to nine grandchildren; Victoria (Torii), Dominic and Cambriia of Hermantown, Casdyn, Ryker and Macalister of Appleton, Charlie, Elsie, and Hattie of St. Michael. They all were the pride and joy of his life. He cherished all the time spent going to their hockey, football, soccer and tennis games. He is also survived by his brothers Lowell Thomas of Eveleth, Jeff (Carol) Thomas of Eveleth; sister, Janelle (Neal) Thuringer of Hoyt Lakes and many nieces, nephews, cousins and friends.

Jim was preceded in death by his parents and brother Jon Thomas.

The family would like to thank Saint Luke's Oncology, East Range Hospice team and Dr. Mitchell Cardwell and staff of Hibbing Family Medical Clinic.