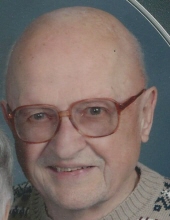 Obituary for Anthony W. "Tony" Rozinka
Mass of Christian Burial will be 11:00 a.m., Friday, February 2, 2018 at Resurrection Catholic Church, Eveleth. Officiating will be Celebrant Fr. Frank Perkovich and Deacon John Specht. Visitation will be one hour before the service. Honorary Casket Bearers will be John Intihar and Rick Stefanich. Burial will be in Eveleth Cemetery at a later date.

Anthony W. "Tony" Rozinka, 92, of Eveleth died Sunday, January 28, 2018 at St. Michael's Health & Rehabilitation Center in Virginia. He was born on January 14, 1926 in Eveleth to Anton and Josephine (Perko) Rozinka. Tony graduated from Eveleth High School and was a WWII Navy veteran. He was united in marriage to Theresa Ann Constantine on April 19, 1952 in Eveleth. They made their home in Eveleth and Tony worked as a fireman for the City of Eveleth and later as a sewing machine mechanic for the Arrow plants. He was a former member of Resurrection Catholic Church, having served as a reader, usher and member of the parish council and was a current member of St. Joseph's Catholic Church in Gilbert. He was also a life member of Mesaba Range Post 1172 Veterans of Foreign War of Eveleth. Tony was an avid walker with his twin brother, Frank.

He is survived by his wife, Theresa; sons, Terry (Paula) of Plymouth; Michael (Patty) of Riverdale, Utah; grandchildren, Michael (Carissa) Rozinka and Gina (Michael) Carlson; 5 step-grandchildren and 14 step-great-grandchildren; brother, William (Jeanette "Nettie") of Las Vegas; nieces and nephews, including a special niece, Kathy Madzey.

He was preceded in death by an infant son, Stefan; sister, Josephine; twin brother, Frank and his parents.

The family would like to give a special thank you to their second family at St. Michael's, especially to Ginger for the wonderful care given to Tony.
Previous Events
Mass of Christian Burial
Resurrection Catholic Church
301 Adams Avenue
Eveleth, MN
Visitation will be one hour before the service at the church
Cemetery Details
Location
Eveleth Cemetery
Park Ave/County Road 142 near Hat Trick Ave.
Eveleth, MN