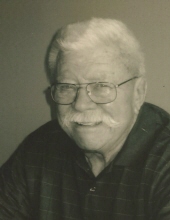 Obituary for Premus John Novak
A private family inurnment will take place at Fort Snelling National Cemetery in Minneapolis.

Premus John Novak, 93, of Eveleth, passed away peacefully on Wednesday, August 16, 2017 at St. Raphael's Health & Rehabilitation Center in Eveleth, with his family by his side.

Premus was born on May 12, 1924, raised in Eveleth and attended Eveleth High School. He served his country in WWII in the Navy. His ship, the USS Buchanan DD-484, received the Presidential Unit Citation and 16 Battle Stars for her WWII services, placing her among the most decorated US ships of WWII. On September 1, 1945, the USS Buchanan DD-484 carried Admirals Nimtz and Halsey to meet General MacArthur at Yokohama. The following day, they carried General MacArthur to the battleship Missouri where MacArthur accepted the Japanese surrender. Premus was very proud to serve his country and be a part of this moment in history.

After the war, he returned home to marry Julee Ruth Zezel from Hibbing. They were married 60 years and raised three children in Eveleth. He was employed at US Steel, quickly becoming a foreman and was one of the original foreman that started the Minntac Mine-Agglomerator. He retired as a general shift foreman in 1983.

He was involved with the Eveleth Men's Choir, the Knights of Columbus and volunteered with his wife at the Eveleth Fitzgerald Nursing Home for many years. He will be remembered for playing Santa Claus with his wife and bringing many smiles to the elderly. He was our family's strength and foundation and leading example. Along with our mother, he will be sorely missed. He was a role model and inspiration to his children and grandchildren. Our dad was very devoted to his family. We would like to say a special thank you to the following: Dan and Sherri Larsen and family. Your kindness and friendship made it possible for him to stay in his home until his 93rd birthday. To Home InStead Senior Care, Vickie and Marge; St. Raphael's Health & Rehabilitation Center staff; thank you for treating dad with respect and kindness and to Fr. Michael Garry, Deacon John Specht and Chaplin Debra Gunderson for your spiritual support.

He is survived by his children; Judith (Jim) Koski, Jolene "Joey" (Michael) Novak-Haverkamp and Jeffrey "Duffy" (LuAnn) Novak; his grandchildren, Reagan (Kevin) Hulbert, Matthew (Samantha) Novak, Jason (Katherine) Novak, Sarah (Riley) Haverkamp-Dowse, Brian Novak, Marc (Jessica) Haverkamp; great-grandchildren, Ida and Evelyn Hulbert; nephews, Bill and John Kuharenko and many relatives and friends.

He was preceded in death by his wife, Julee Ruth; his parents, Prince and Agnes (Kapsh) Novak and sister, Agnes Kuharenko.
Cemetery Details
Location
Fort Snelling National Cemetery
7601 34th Ave S
Minneapolis, MN 55450