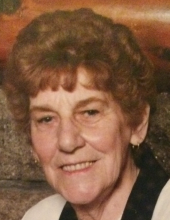 Obituary for Pauline A. Wiirre
A celebration of her life will be officiated by Father Perkovich at 11:00AM Saturday, October 29, 2016 at St. Martin's Catholic Church, Tower, MN.

Pauline 'Polly' Agnes (Mesojedec) Wiirre, 89, passed away on Sunday, October 16, 2016 at Edgewood Vista in Virginia. The 11th child of thirteen, she was born in Soudan on September 25, 1927 to Helena (Breznick) and Ludwig Mesojedec.

Growing up during the Great Depression, when gasoline cost ten cents a gallon, 'new' shoes were her old ones reinforced with more cardboard. Clothing was passed down from older to younger. The loving sisters slept 4 and 5 to a bed. Losing her mother at the age of nine, Polly had guidance from her siblings and helped the tightknit family plant & harvest vegetables, pick fruit, berries and dandelion greens, pluck chicken feathers, wash clothes by hand and hang all on the lines to dry. At Christmas each child received an orange. The children were delighted when their 'Pa' built a new house in Soudan; the first home in town equipped with indoor plumbing.

During World War II, Polly worked for $1 a day at Gruben's Resort on The Isle of Pines on Lake Vermilion. She was a clerk at Myres General Store in Tower, and the benevolent local dentist hired her as a receptionist in lieu of paying for dental services. In high school Polly was thrilled when her classmates voted her The Snow Caper's Queen. She also won the title of Miss Tower News, complete with a ride in the parade, sitting atop a convertible wearing a dress fashioned from newspapers. Polly loved music. She played the clarinet in school, enjoyed dancing, and throughout her life played the piano and organ. She was an avid reader, wrote poetry, and always had a puzzle book nearby.

Polly was wed to Robert 'Bob' Wiirre of Leonidas on September 17, 1949 and they began married life in Virginia, MN. The couple moved to Buhl in 1961, purchased a home and raised their children. Polly and Bob celebrated their 61st wedding anniversary before his death in 2010.
In Buhl, Polly was very active, singing in the choir at the Sacred Heart Catholic Church, serving as President of the Library Board, Senior Regent of the Women's Moose Lodge Auxiliary, and President of the Buhl Curling Club. Polly worked as manager of the Buhl Moose Club for 23 years and was named by the patrons as 'the best bartender in town'. She was the life of the party, ever ready to share a joke or story.

Polly was an excellent seamstress and cook. Friends & family visiting her home would savor homemade apple strudel, potica and spritz cookies while enjoying Polly's stories and poems. Rarely would a visitor leave without bakery in hand. She was awarded scores of ribbons at the St. Louis County Fair for her diverse entries of knit & crocheted items, flowers, garden vegetables and canned goods. After retiring, Polly crocheted hundreds of afghans, generously gifting 238, saving only one for home. Neighbors would often see her filling bird feeders, hand-feeding the chipmunks, or tending to her prized sunflowers. She loved her family and friends, dark chocolate, the Discovery channel, and writing in her diary.

Polly is survived by her beloved children, Judith, Linda, Daniel and Lorraine; grandchildren Jason, Jessica, Daniel, Jake, Patrick, Katie, Leah, Emily and Tia; great-grandchildren Rozalynn, Emma, Leo, Hunter, Cameron and Mia; treasured daughter-in-law Debbie; adored sisters Rose (Passi) and Helen (Adkisson); dear sisters-in-law Mary (Capan) Wiirre and Aggie (Chiabotti) Mesojedec, brothers-in-law Anthony DeMasi, Rudy Grahek and Roger Taylor; cherished friends Donna Maki, Linda Tyssen, Ricky Neumann, and many loving nieces and nephews all of whom will miss her dearly.

She was preceded in death by her parents, husband, brothers Ludwig (Al), Joe, Herman, Frank (Jed), Edward, sisters Vida (Popesh), Elizabeth (Betty) Spreitzer-Murphy, infant Mary, Gizella (Zella) DeMasi, Agnes (Aggie) Grahek-Taylor, and infant grandson Byron.

The family would like to thank all of her friends and family that reached out to provide Polly with much needed support over her final months. A special thanks to Essentia Hospice of Virginia and the Edgewood Vista staff for the care given and love shown.

Lahko Noc Moya Ljubezen – Good Night My Sweetheart.