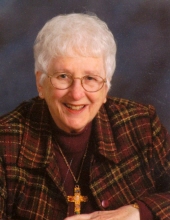 Obituary for Patricia C. Moore
Patricia C. Moore of Eveleth, MN passed away on September 7, 2017 at Solvay Hospice House in Duluth with her daughter, Kathleen and granddaughter, Jessica at her side.

Pat joins those she loved so dearly who passed before her: parents, Jack and Milly (Lund) Welch; sisters, Bridget Perushek and Barbara Digerness; brother, John Welch; husband, Wilbur Moore, and her children, Cindy Moore and Tim Moore.

Born on July 14, 1930 in Eveleth, Minnesota, Pat lived all but 5 of her 87 years in her hometown. Educated as a nurse at St. Mary's Hospital in Rochester, MN she earned her RN degree and started her career working at St. Mary's until a handsome soldier stole her heart and they began a family in Eveleth, MN, where Pat continued her career.

Pat was called to nursing in a way that was obvious to everyone who knew her as a person and as a nurse. She believed she was born to serve and serve, she did. Throughout her professional life and beyond, friends, neighbors and family sought Pat's counsel and considerable knowledge when a loved one was ill. She was highly respected by those with whom she worked at the More and Eveleth Fitzgerald Hospitals in Eveleth and at the Virginia Hospital.

God, family, and music were her truest loves. A devout Christian, she served her Lutheran church family as confirmation teacher, Bible study student and leader, chairperson of various committees and as a volunteer in whatever capacity she was needed. She cheered her children and grandchildren on through their successes and supported them in their travails. She learned to play piano as a child, loved to sing, and continued playing and singing throughout her life, finding solace in music as well as planting the seeds of love for music in her children and grandchildren.

Pat is survived by her daughter, Kathleen Moore (Lynne Swanberg); granddaughters, Jessica Mesich (Bob), Erin O'Rourke (Abe), Sarah Moore, Kelsey Fraboni; grandson, Nate Lappi (Trudy); beloved great grandchildren, Natalie, Wyatt and "B" as well as many nieces, nephews and friends.

Funeral service will be held at 11:00 a.m., Saturday, September 23, 2017 at United in Christ Lutheran Church, Eveleth, MN. Visitation at the church begins at 10 a.m. Refreshments will follow in the church hall.
Previous Events
Memorial Service
United in Christ Lutheran Church
201 Station 44 Road
Eveleth, MN
Visitation will begin at 10:00 a.m. at the church. Refreshments will follow in the church hall.