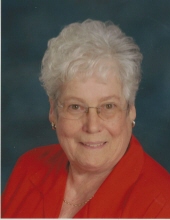 Obituary for Marlene Jean Wudinich
Memorial Mass will be 11:00 a.m., Thursday, September 14, 2017 at Resurrection Catholic Church in Eveleth. Celebrant will be Fr. Eamonn Boland. Visitation will be one hour before at the church. Inurnment will be privately with her husband and grandson in Eveleth Cemetery.

Marlene Jean Wudinich, 82, of Eveleth died peacefully surrounded with her family, on Saturday, September 9, 2017, at her daughter's residence. She was born on August 20, 1935 in Duluth to Anthony and Margaret E. (Erickson) Ferrazzi. Marlene was united in marriage to Michael A. Wudninich Sr. on October 29, 1955 at the former Immaculate Conception Church in Eveleth and was a longtime Eveleth resident. She was a member of Resurrection Catholic Church and worked at the Pizza Pasta House before retiring from the Eveleth Holiday Inn restaurant. All who worked with her called her "Mother". Marlene will always be remembered for her generous and loving spirit, always wanting to help others. She also had a great love for baking and cooking. She enjoyed making Birthday dinners and cakes for her children and grandchildren. And a day at the lake or a day playing cards, she enjoyed her time with family and friends.

She is survived by her sons, Mick (Brenda) Wudinich, Scott (Kim Peterson) Wudinich; daughters, Debra Jean (David) Zasadni, Carrie Jo (Pat) Cooke; grandchildren, Derek Wudinich, Jenn Rouleau, Angie Foote, Seth, Cody Tocchio, Cord Tocchio, Jasmine Black, Jacki Zasadni, Dana Wiersma, Jesse Cooke and Peytra Jean Cooke; great-grandchildren, Nash, Knox, Madison, Mason, Gavin, Jillian, Alicia, Austin, Nathaniel, Jacee Jane and Miko; future great- granddaughter Halsey and numerous nieces, nephews, special nephew, Mike Ferrazzi and friends.

She was preceded in death by her parents, husband, Michael Sr.; grandsons, Jeffrey Wudinich and Cole Black; brother, Jack Ferrazzi and special son, David Sundstrom.
Previous Events
Visitation
Resurrection Catholic Church
301 Adams Avenue
Eveleth, MN
Mass of Christian Burial
Resurrection Catholic Church
301 Adams Avenue
Eveleth, MN