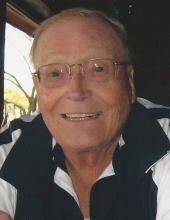 Obituary for Lee J. Lundgren
At Lee's request, a private family memorial service will take place at Cron-Sheehy Funeral Home, Eveleth with the Rev. Fr. Frank Perkovich officiating. Please join the family for fellowship and lunch at Eshquaguma Country Club from 1:00-3:00 PM on Friday, August 11, 2017. In lieu of flowers, memorials are preferred to the Eveleth Area Community Foundation, P.O. Box 231, Eveleth, Minnesota 55734 www.evelethareacommunityfoundation.com

Lee J. Lundgren, 88 of Gilbert, died Saturday, August 5, 2017, at Diamond Willow Assisted Living in Mt. Iron. He was born on March 7, 1929 in Virginia, Minnesota to Axel and Helen (Strom) Lundgren. Lee was united in marriage to Marcy A. Nelson for 65 years. He served in the United States Air Force and was a lifelong Eveleth resident. Lee was owner and operator of Lundgren Motors in Eveleth for 62 years. He was a member of Peace United Methodist Church in Virginia, past Chairman of the Northland Ford Dealers and past president of the Minnesota Auto Dealers Association and Minnesota Time Magazine Quality Dealer in 1989. He served on the Board of Directors of Miners National Bank for 52 years. He was also a member of the Eveleth Masonic Lodge #239, Shrine AAD Temple of Duluth, and a member of the Eveleth Lion's Club. Lee was a long time member and past president of Eshquaguma Country Club. He enjoyed traveling, flying his own planes, golfing, snowmobiling, and motorcycling. He loved to have the best and latest electronic gadgets and was on a first name basis with the staff at Best Buy. He will be remembered for his passion and love of selling cars to our Iron Range community. Most of all, he cherished his time with his wife and family.

He is survived by his wife, Marcy; children, Lee Anne (Dale Gilbertson) Lundgren, Karen (Corey) Husu, Bruce (Holly) Lundgren, Chrissy (Joe) Summary; grandchildren, Laura (Troy) Hughes, Bryan Brown, Alyson (Joseph) Mulheran, Jonathon Husu, Hayley, Olin and Anneka Lundgren, Claire, Nelson, William and Viva Summary; great-grandchildren, Jack, Erin and Luke Hughes; sister, Marianne Lundgren.

He is preceded in death by his parents.