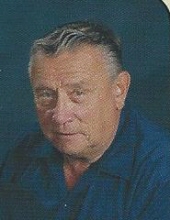 Obituary for John L. Harju
A memorial service will be held at 11:00 a.m., Tuesday, March 28, 2017 in Resurrection Catholic Church, Eveleth. Visitation will be one hour before at the church. In lieu of flowers, memorials are preferred.

John L. Harju, 75, of Eveleth, died Monday, March 20, 2017 at his residence. He was born on July 24, 1941 in Eveleth to Wayne L. and Bernice (Kostanko) Harju. John graduated from Eveleth High School. He was united in marriage to Karen Anne Kostelic on April 14, 1962 in Eveleth. John worked for Stan's Super Service in Eveleth and did construction work before becoming head mechanic and a bus driver for the Eveleth schools. He retired after 30 years of service. John enjoyed gardening and planting in buckets, hunting, fishing, cutting wood and was always willing to help family and friends. In John's way, he was a loving dad and grandpa.

He is survived by a daughter, Kathy Ann (Jerry) Harju-Widseth of Eveleth and children, Christopher (Elizabeth) Hoey and Adelaide; Brandon (Heather) Hoey and Avery and an expected baby; a son, John K. Harju of Anchorage, Alaska and children, Kristi (John) Sonnichsen and Brayden and Harper; Ryan (LeAnne) Harju and Ryan and Riley; John Martinson and Jonathan Harju; brothers, Edward (Jean) Harju and Jack (Dawn) Harju both of Eveleth; sister, Sheila (Dan) Carl of Minneapolis; sisters-in-law, Cheryl (Paul) Horoshak of Eveleth and Debbie (Tim) Langowski of Maryland; numerous nieces, nephews and close friends.

He was preceded in death by his wife, Karen A.; brother, Mark and sisters, Faye and Judy.
Previous Events
Memorial Service
Resurrection Catholic Church
301 Adams Avenue
Eveleth, MN
Visitation will begin one hour before at the church