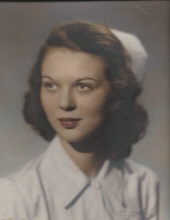 Obituary for Joan Jacqueline Gulon
Mass of Christian Burial will be 11:00 a.m., Thursday, December 22, 2016 at Resurrection Catholic Church in Eveleth. Fr. Michael Garry and Fr. Eamonn Boland will co-celebrate. Visitation will begin at 9:30 a.m. at the church. Interment will be at the Gilbert Cemetery. Pro-Life America and Resurrection Catholic Church memorials are preferred.

Joan Jacqueline Gulon, 89, of Eveleth, died Saturday, December 17, 2016 at Fairview Range Medical Center in Hibbing. She was born in Sturgeon Bay, Wisconsin to Milton E. and Phyllis J. (Chapman) Westfall and raised in her beloved Door County. Joan graduated from Sturgeon Bay High School in 1945 and from Michael Reese School of Nursing in Chicago, Illinois in 1948. She worked as a registered nurse as an evening supervisor at Michael Reese. It was in Chicago that Joan met her husband Dr. John Peter Gulon, who was attending the Illinois School of Optometry. They were married on January 7, 1950. John and Joan shared 65 years together. They were a team who loved each other dearly.

John and Joan returned to Gilbert, Minnesota before moving to Eveleth where they raised their eight children. Joan also worked at the Virginia Memorial Hospital and the More Hospital in Eveleth prior to starting their family. Joan was an active member of Resurrection Catholic Church where she served on the pastoral council and finance council, taught Catechism, a 30 year member of the choir and served as the first chairperson of the Pro-Life committee. Joan remained dedicated and committed to the Pro-Life cause throughout her life. She also volunteered at the Eveleth Arrowhead Nursing Home and served on the Board of Directors of the Eveleth Fitzgerald Hospital.

Her passion was her family. Along with her husband, John, she guided her children along the way and was always there to share joys as well as difficult times. Joan took great pleasure in her flower gardens. A passion she inherited from her mother, Phyllis. She was also an avid reader. Throughout her life Joan continued nursing and administering to family, friends and the Norman Avenue Gang. Her compassion knew no boundaries and Joan could always be counted upon to soothe and comfort. In her later years Joan loved to sit in her backyard swing enjoying her flowers, family, friends, and her faithful dog, Buddy.

Joan is survived by her husband, Dr. John Gulon, her children, Elizabeth (Dr. Mike) Miskovich of Grand Rapids, Mary Sauter of Denver, CO, Barbara (David) Bozicevich of Virginia, Dr. John E. of Minneapolis, Carol (Robert) Mayasich of Sioux Falls, SD, Paul (Roberta) of Brooklyn Park, Thomas of Detroit Lakes, and Patricia (Russell) Becker of Dellwood. Grandchildren, Dr. Peter (Molly), Aaron (Tia), Dr. Michael (Rachael), Matthew, Ann, Alexandra, Taylor, Madelyn, Victoria, Jacqueline (John), Samuel, Olivia, Chris (Melissa), Rory (Alicia), Jessica (Eric), Richie, Sydney, John, Jack, Joseph, John and 16 great-grandchildren, extended family and dear friends, Jim and Diane Gulan of Gilbert, Cecelia Gulan of Virginia, Charles and Roni Gulan of San Jose, CA, and her dog, Buddy.

She was preceded in death by her parents, Milton and Phyllis Westfall, and her infant son, John Peter.
Previous Events
Mass of Christian Burial
Resurrection Catholic Church
301 Adams Avenue
Eveleth, MN
Visitation will begin at 9:30 a.m. at the church
Cemetery Details
Location
Gilbert Cemetery
Gilbert, Minnesota 55741