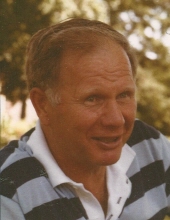 Obituary for Hjalmer Gustave Welander
Memorial mass will be 11:00 a.m., Wednesday, November 30, 2016 at Resurrection Catholic Church, Eveleth. Celebrant will be Fr. Michael Garry. Visitation will one hour before. Inurnment will be in Eveleth Cemetery.

Hjalmer G. Welander, 90, of Eveleth died Sunday, November 20, 2016 at St. Raphael's Health & Rehabilitation Center in Eveleth.

He was born on April 24, 1926 in Virginia to Gustave and Annie J. (Johnson) Welander. Hjalmer graduated from Virginia High School. He enlisted in the U.S. Army on August 10, 1944 and served his country during WWII with Company E, 276th Infantry Regiment 70th Division until his honorable discharge on July 2, 1946. Hjalmer was united in marriage to Regina M. "Lauley" Jurjavich on October 11, 1947 in Virginia. In the early 1950's, Hjalmer worked for Welander's Grocery in Virginia. He also worked for the United States Postal Service and from 1969 – 1972 operated Welander's Big Dollar. He retired from Pohaki Lumber.

Hjalmer's hobbies included carpentry and woodworking. A workaholic, he also enjoyed rummage sales, spending time at his Long Lake home with his family, time spent with his cats, Dudley I, Dudley II and playing solitaire in his later years.

He is survived by his children, Eugene (Shirley) Welander, Jayne (Roger) Scott, Lesley (Charles) Miller, Barbara (David) Kleinschmidt; grandchildren, Corey (Angela Blakely) Welander, Kelly (Kinga) Welander, Erik Scott, Beth Scott, Spencer (Peggy) Miller, Michael (Joy Kim) Knauss, Faye (David Canady) Knauss, Jason (Angie Vasquez) Tamminen, Joshua (Erika Wojtkowski) Tamminen, Lauren (Rob Bosch) Kleinschmidt; great-grandchildren, Claire Welander, Noah Perron, Oliver Perron, Zachary Dorweiler, Kayla Miller, Jordin Miller, Autry Canady, Berkeley Canady and Asa Tamminen; sister-in-law, Dorothy Barfknecht and numerous nephews and nieces.

He was preceded in death by his wife, Regina Mae Welander; parents, Gustave and Annie Justine Welander and siblings, Elsie Koski, Elmer Welander, Elna Wavernack, Walter Welander and several nephews.
Previous Events
Memorial Service
Resurrection Catholic Church
301 Adams Avenue
Eveleth, MN
Visitation one hour prior to the service
Cemetery Details
Location
Eveleth Cemetery
Park Ave/County Road 142 near Hat Trick Ave.
Eveleth, MN