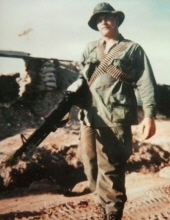 Obituary for Frank L. "Rusty" Dolinsek Jr.
A gathering for family and friends will be held from 5:00 p.m. – 6:00 p.m. Thursday, December 22, 2016 at Cron-Sheehy Funeral Home Chapel, Eveleth. Military Honors will be accorded by Virginia Servicemen's Club Honor Guard.

Frank L. "Rusty" Dolinsek, Jr. 66, of Laughlin, Nevada and formerly of Eveleth, died Sunday, December 18, 2016 in Laughlin.

He was born on November 8, 1950, in Eveleth to Frank L. "Red" and Mary (Marnich) Dolinsek Sr. Rusty graduated from Eveleth High School in 1968 and was an Army veteran of the Vietnam War. He was a member of Mesaba Range Post 1172 VFW of Eveleth. Rusty worked as an electrician. In his younger years, he coached hockey and baseball.

He is survived by his wife, Ginny; children, Dalas Dolinsek of Eveleth, Valerie Heady of Colorado Springs, CO; step-daughters, Sharon Juola of Flagstaff, AZ, Michelle Juola of San Francisco, CA; ten grandchildren, one great-granddaugher; brothers, Ricky (Linda) Dolinsek of Eveleth, Dennis (Dee) Edstrom of Arizona, Melvin (ReGail) Edstrom of Orr and sister, Jane (Jack) Stanaway of Eveleth.
Previous Events
Gathering
Celebration of Life
502 Adams Avenue
Eveleth, MN 55734
Military Honors accorded by Virginia Servicemen's Club Honor Guard